Contact us

Products
ASTA588GrA steel plate steel plate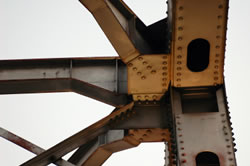 BEBON is A588GrA steel plate steel supplier,we can offer High quality steel plate,and pretreatment of the advanced equipment.If you are interested in A588GrA steel plate steel,please contact us.
Section Links: Steel resistant to atmospheric corrosion
Grades: A588GrA
The pursuit of excellence in quality, all the time, is BEBON's goal. Good quality ensures your satisfaction. If the goods have any question, we can solve it for you immediately. So, if need A588GrA steel plate, welcome to contact us.
A588GrA steel plate Chemical Composition
Carbon, %

Manganese, %

Cr %

Silicon %

N % max

Sulfur %

Max 0.19

0.80-1.25

0.40-0.65

0.30-0.65

0.010

0.040

Cu %

Phosphorus %

Ni %

Mo %

0.25-0.40

0.05

0.40

….
A588GrA steel plate Mechanical Property
Thickness

Yield Strength
ReH[N/mm2]transv.min

TensileStrength
Rm[N/mm2]transv

Fracture Elongation[%]transv. min.

Notch ImpactEnergy1)Ch Vcomplete samplelongitud. min [J]

0mm-100mm

340 KPa

480 KPa

-

-

-

102mm-127mm

320 KPa

460 KPa

127mm-203mm

290 KPa

430 KPa
BEBON offers an extensive range of abrasion resistant steel with the following benefits...
To find out more about BEBON and the weathering steels on offer click the information links at the top of this page. If you want to make an enquiry or receive a competitive quotation, CLICK HERE to contact us.